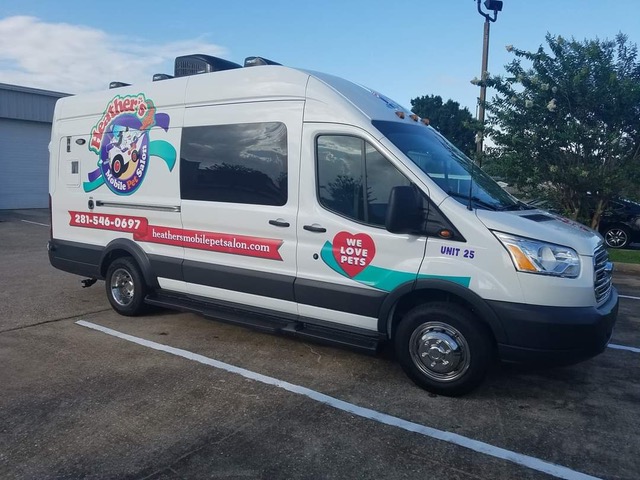 You're wanting to hire a mobile grooming service but not sure what questions to ask?
The following questions may help you decide if they are right for you.
May I see your van?
How does it look, is it clean? How does it smell? You'll want to see a well-ventilated van, clean workstation, sturdy tables, and tub.

Besides brushing, shampoo and haircut, what services do you provide?
Groomers have the proper tools and are knowledge in removing mats, trimming nails and cleaning ears. They can also make you aware of ear infections, tooth decay and skin infections, hot spots.
May I stay and watch while you groom my dog?
Your own nerves can make your dog more anxious, but it is up to the grooming company if they allow you in the van to watch.

Do you have experience with my dog's breed?
Some breeds have particular grooming needs, so you may want to ask if they have experience with your specific breed. Ask if they know what the breed standard is and whether they can perform the correct hair cut for your breed.

What kind of training do you have?
Training can vary. Some groomers learn on the job through apprenticeships or mentoring programs. Others attend classes at a pet grooming school. You'll want to get a sense of the groomer's experience, training, and knowledge. Don't shy away from asking any questions you have about your dog's care.

Do you have a first aid kit?
Of course, you hope it won't be needed, but just in case.

What do you do in case of a medical emergency? Do you know animal CPR/First Aid?
Ask your groomer what steps are involved if there is a medical emergency with your dog. What if you aren't at home when the emergency occurs? Many groomers are trained in animal CPR/First Aid and can assist your pet should the need arise.

How much will my dog's grooming cost?
It shouldn't be your first concern, but it's a question you want to ask upfront to avoid any sticker shock. The cost of a dog grooming can vary by size and coat type, as well as what services are included in the bath or groom. Some dogs also take longer to groom than others. A professional groomer will be able to quote you a rate once they assess your dog's individual needs.
Information obtained from the American Kennel Club