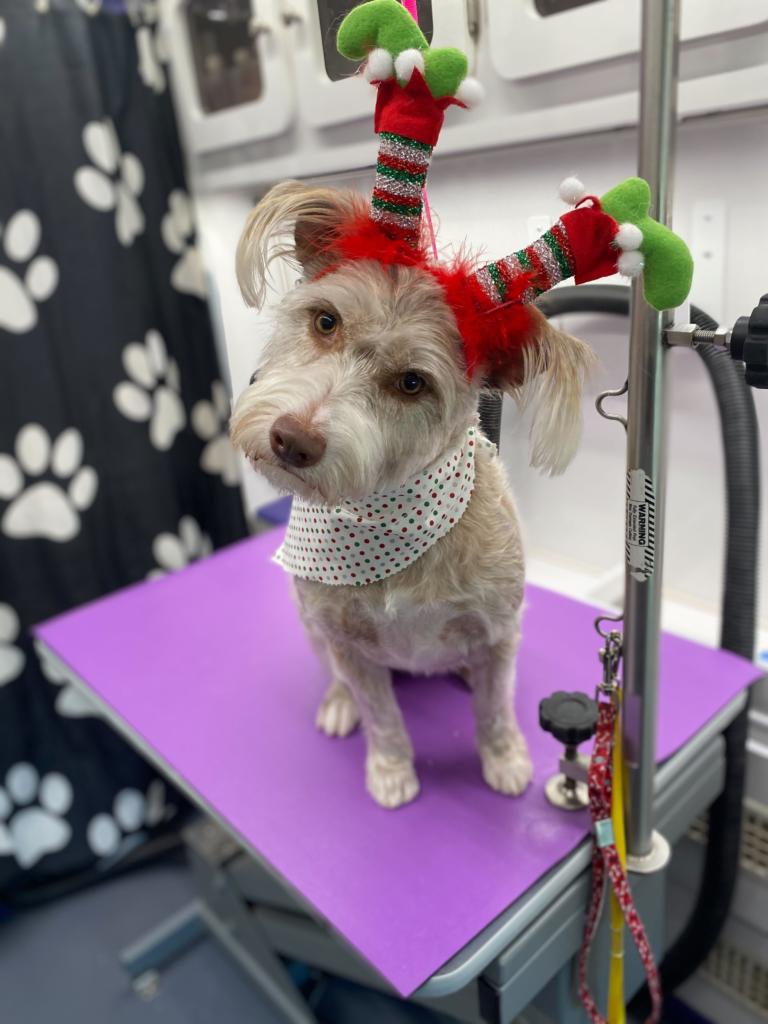 Pets are not presents
Happy holidays!
No matter which holiday you celebrate, all of us at Heather's Mobile Pet Salon hope you have the best celebration!  

Many times when Santa checks his Naughty or Nice list he sees that someone wants a puppy or kitten.  While they might seem like the perfect gift, you should take some things into consideration…

Is the pet for your child?
Who will be responsible for feeding/walking/cleaning up?
Are you considering a pet for someone?    
Does this person WANT a pet?
Do they live in a house or apartment?  Some dogs are not allowed in apartments or rental properties.
 Is the person able to take a dog on walks?

 You also need to take allergies into consideration.  You may think Aunt Jessie would just love this little kitten you found, but she may be allergic to cats.
 Is this person financially able to care for a pet?
Have you or the person you're considering getting a pet for done research on the breed of the pet? Many breeds require regular grooming, professional training, and some even have lots of medical issues associated with their breed.
Other things to consider this holiday season:
We all love our big shiny trees adorned with ribbon and ornaments, but some of the things we put on them are not so good for our pets.  
    Flocking is mildly toxic to pets
    Tinsel can be a choking hazard.  Your pet can eat the tinsel and it could get wrapped around the back of their tongue.  It could also cause a gastrointestinal blockage.
Poinsettia leaves produce a sap that can irritate your cats mouth and esophagus.  This plant is only mildly toxic but it can cause nausea/vomiting.
Christmas tree water can be stagnant and the trees can leak sap and fertilizers into the water which can make them sick.
Keep an eye on your pets, especially puppies because they like to chew, if there are any lights hanging from the tree they can reach.

Now that we have the 'dangers' out of the way lets find a way to include your pets in your holiday celebrations.
While your dogs and cats may not care to be dressed up or wear antlers, they sure do look cute!  Of course, always supervise pets with costumes on. Take lots of pictures of them, whether they are cooperating or not.  Sometimes the unexpected pics are the best!  If you do get your kids a pet, video them when they see their new pet for the first time.  Such joy on their faces!!!  Maybe let them choose the name of your new family friend.  I know someone who let their little girl name her new puppy….it was Waterslide!  How cute is that!!
Most of all, love and care for your pets, whether they are new or you've had them awhile.  They love us unconditionally, just look in their eyes and you can see it.
Again, from all of us at Heather's Mobile Pet Salon,
Happy holidays!